Tune in. Turn up. Take Action. That was the message we printed on T-shirts we distributed in September at the biggest annual radio convention in America: the Radio Show. We joined thousands of broadcasters, advertisers, on-air personalities and artists from around the country to celebrate Radio's Ultimate Destination.
The National Association of Broadcasters (NAB) and the Radio Advertising Bureau (RAB) host this event, which features speakers, exhibitors, networking events and live music, in a different city each year.
There was no shortage of star power in Austin this year. Not only did artist after artist shine on stage during live performances, they sang radio's praises.
"Thank you so much for everything that you've done for me, my fans and my career," said Demi Lovato, global superstar and writer and performer of the hit song "Sorry Not Sorry," during the Music and Mimosas event. "You guys have been incredible."
Lovato said it's still a dream come true every time she hears her song on the radio. "I still turn it up way loud, I roll my windows down, I'm like 'that's my song!'" Lovato said. "It never gets old and I just want to say thank you for making my dreams come true!"
"Thank you for making my dreams come true!" – Demi Lovato
Musician Jack Ingram also described how amazing it was as an artist to hear his name on the radio. But for artists like Ingram, it's not just about the pride of hearing their music on the radio: It's about gaining influence and earning an income based on radio play.
"I get to make decisions now about my career based on the fact that I have hits on the radio," Ingram told Radio Show attendees. "I want you guys to know how important that is."
"I get to make decisions now about my career based on the fact that I have hits on the radio." – Jack Ingram
Ingram said having hits on the radio helped him subsidize his songwriting career so that he could develop his talent.
Drake White, an American country singer, thanked everyone in radio for helping him realize his musical dreams. "Thank you for supporting my dream and my band's dream," he told the audience. "Thank you very, very much."'
"Thank you for supporting my dream." – Drake White
The Free Radio Alliance attended the event to turn the passionate radio fans in attendance into Free Radio Alliance members. In fact, a full 21 percent of all attendees at the Radio Show joined the Free Radio Alliance.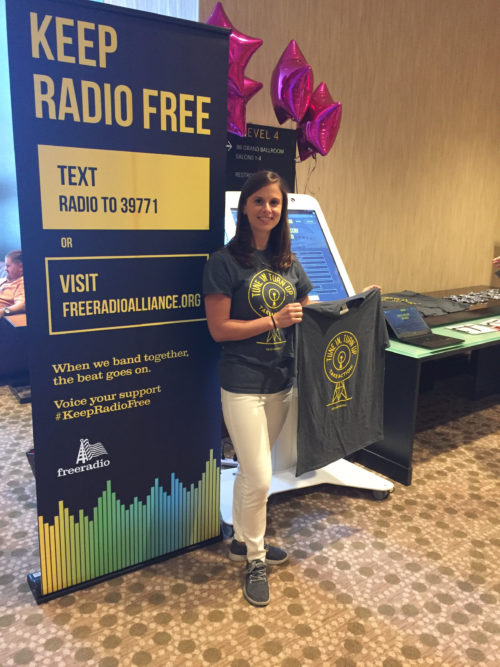 The Free Radio Alliance T-shirts were such a huge hit at the Radio Show that we gave them all away on the first day. The message on the T-shirts, an invitation to join us in our mission to support local radio, resonated with our audience.
Our T-shirt giveaway was such a huge success we've decided to keep up the momentum. We're launching a new campaign giving our supporters a chance to expand their Free Radio Alliance T-shirt collection. Watch for the T-shirt contest on Twitter and Facebook and retweet or share the post on your profile. Anyone who both follows us and retweets or shares our T-shirt contest post will be entered to win a Free Radio Alliance Radio Show T-shirt from a past year.
To everyone we met at the Radio Show: Thank you for stopping by our booth and for your support for local radio! We look forward to seeing you next year in Orlando for the Radio Show 2018.