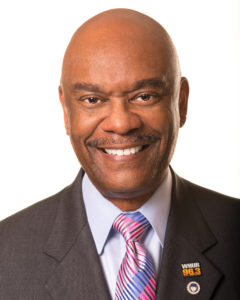 In the past year alone, a single radio station broke its own fundraising record to send students across America to volunteer help to communities and families in need. In the cold of winter, it collected new coats, hats and gloves for 2,000 low-income children in Washington, D.C.
When he reflects on the past year, those are the moments Jim Watkins is most proud of. As the general manager at WHUR 96.3 FM at Howard University in Washington, D.C., Watkins has a vision for community service that filters into everything the station does.
The station's community service is just one of the things that makes WHUR, and radio in general, different from other mediums. But Jim Watkins believes there's another powerful differentiator that puts radio squarely in a league of its own: the personal connection.
Radio Creates a Personal Connection with Listeners
"When an announcer is on the air, they are talking to you personally," Watkins told the Free Radio Alliance. "They're letting you know what song is being played, what's happening in the community, what the weather is and what the traffic is."
Radio facilitates a connection between people by allowing one person to speak to another through a live broadcast, Watkins explained. In contrast, algorithm-driven streaming services deliver music, and not much else, based on the listener's inputs.
"There could be something really big happening in your area, but you'll never know it listening to a stream," Watkins said. "Radio gets you there immediately."
WHUR is a shining example of what makes radio different. But, Watkins said, performance tax legislation such as the Fair Play Fair Pay Act, currently being debated in Congress, could saddle local radio stations like WHUR with burdensome new fees.
Performance Tax Would Hurt Stations and Communities
Not only does performance tax legislation ignore the fact that local radio is a unique medium, it would hurt communities too. Additional fees would, Watkins said, take away from the station's community service efforts.
"A performance tax will affect us adversely."
"A performance tax will affect us adversely because it will take away the money that we would normally use to serve the community with our special programs, the promotions that we do, and anything else that requires a monetary input," Watkins said.
Performance Tax Not Only Harmful, But Unnecessary
Proponents of a performance tax, which would slap radio stations with more fees supposedly destined for artists, ignore the fact that radio already gives artists and record labels immense free promotion. The benefit of that relationship has inestimable value.
"The relationship between radio and artists is symbiotic."
"We pay a lot of fees as it is, and the relationship between radio and artists is symbiotic," Watkins said.
At least once a week, the station gets a call from an artist or a record company asking WHUR to promote their material, do an on-air interview or play their music. The station regularly hosts artists for short- and long-form interviews, which it then broadcasts and posts on the internet. If the artist has a concert, WHUR hosts a ticket giveaway and invites listeners to come down to the station, get their tickets and meet the artist.
It's clear: Radio delivers value that can't be quantified. WHUR is proof. All you have to do is listen.