Americans are Listening to Radio as Much as Ever
According to a new study from Edison Research, radio is still playing loud and clear in American homes, cars and communities. Based on Westwood One's in-depth analysis of Edison Research's "Q2 2017 State of the Ear Report," local radio stations have maintained their popularity amid a range of options for listeners, including satellite radio, online streaming, owned music, podcasts and music videos on YouTube. Radio also played a crucial role in keeping residents of the Gulf Coast, Florida and Puerto Rico informed and safe during Hurricanes Harvey, Irma and Maria. The takeaway: radio remains not only a good bet for advertisers and artists vying for access to Americans' ears, but a crucial platform to reach Americans with lifesaving emergency broadcasts.
But that's all at risk.
Legislation that could saddle local radio stations with a performance tax in the form of new music fees is still a very real threat. A new performance tax could cripple radio, hurting artists and communities in the process. That's because – as the research shows – Americans are still tuning in to local radio stations and enjoying all the benefits radio offers, such as community information, emergency weather reports and traffic information.
Here's the proof…
Americans Spending Time Listening to Radio
According to the study, out of the total time Americans spent consuming audio entertainment, they spent a little over half that time – 51 percent – listening to AM/FM radio. That's a greater percentage than any other medium, closely followed by "owned music" at 12 percent. Owned music includes digital singles or albums, CDs, tapes and records that people have purchased and fully own. The time Americans spent listening to radio eclipsed the time they spent listening to ad-free Spotify, podcasts, ad-supported Pandora and music videos on YouTube, at 2 percent, 3 percent, 5 percent and 8 percent, respectively.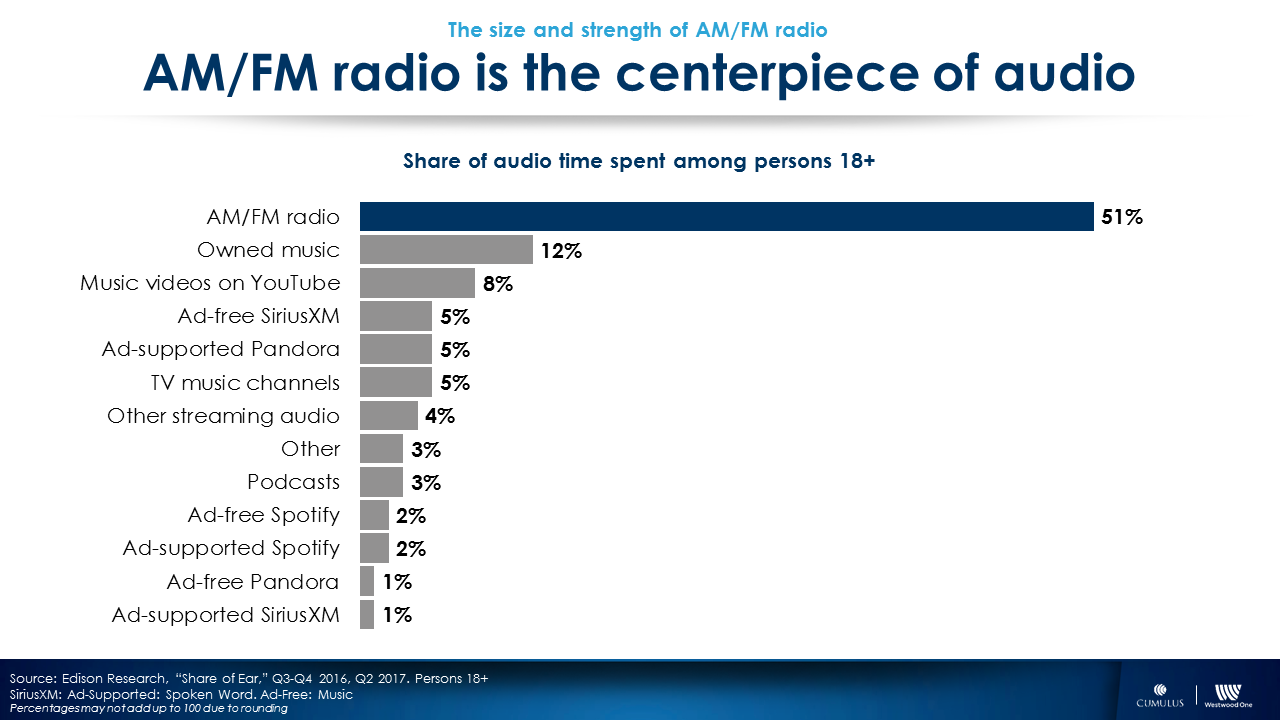 Source: Westwood One
Streaming Chips Away from Owned Music, Not from Radio
It's a common misconception that people are choosing between local radio and streaming services when they decide what to listen to. In this scenario, one or the other loses. According to the State of the Ear report, this simply isn't true. While the time Americans spent streaming music grew, that growth did not take away from local radio. Streaming growth took away from time spent listening to owned music. Americans aren't turning off the radio. Some of them are simply choosing to stream their music rather than purchase it.
Americans Taking Radio on the Road
For artists who want listeners to hear their music, radio represents a platform like no other for reaching Americans as they spend time commuting, chauffeuring children, carpooling and road tripping. According to the Share of the Ear report, that still holds true. Based on the research, out of all the time Americans 18 years and older spent listening to any form of audio in the car, it was AM/FM radio 70 percent of the time.
Radio a Unique and Valuable Medium for Reaching Americans
As the numbers show, radio represents a crucial channel for reaching Americans in their communities, homes and cars. This has a significance not only for artists in search of fans, but for emergency broadcasts, public services announcements and severe weather reports. Because of its powerful reach, radio can help save lives. That makes it completely different from any other audio medium. Not only does it have incredible reach, radio is inherently unique.
Any bill that would saddle radio with a performance tax in the form of new royalties could hurt this valuable medium. Americans and their communities should stand up to new performance royalties that would cripple lifesaving local radio stations by urging their legislators to support the Local Radio Freedom Act.